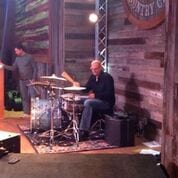 One day while working as a TA in the Radio, Television and Film lab at Sam Houston State University, the department program coordinator asked me if I'd be interested in helping a small business make a video. I did, and $500 later (which was like a million dollars to a broke college student) I was hooked. I knew I was going to have my own video production company one day.
After graduating with my BFA in 1992, I began working for the usual suspects in the Houston video and film industry. After almost a decade of experience (and an enormous loan to buy gear) I launched RCM in 2001.
Since then, I've literally shot, produced, or directed over 1,000 local, regional and national television commercials, I've gone on tour with rock stars, I've shot ground breaking surgery's in the Houston Medical Center, and I've worked with local politicians to the President of The United States (several actually). I love all aspects of digital cinematography and lighting. Capturing the highest quality image to tell my client's story is my number one goal. I love what I do...and that's kind of important.